Lakea's anonymous whistleblowing channel
Lakea builds on trust. We want to be always worthy of our customers', employees' and other stakeholders' trust. As such, any faults detected in our operations can be and must be reported. This is why you are given access to an anonymous reporting channel in accordance with the EU's Whistleblowing directive (EU 2019/1937). The channel is implemented through the First Whistle service.
We want to do the right thing. Sometimes, this may involve a critical inspection of our actions, which will lead to improvements. This is why it is important that we arrange for a way to report any suspicions in case you have witnessed illegal or unethical actions at Lakea, or actions that are otherwise against our values. You can file your report anonymously or by using your name – the choice is yours.
What is this about?
Lakea's channel for reporting, or whistleblowing, is intended for the employees, customers and other stakeholders of Lakea who wish to report any misuse that they have witnessed or that they are suspecting, confidentially and without fear of consequences. To ensure confidentiality and minimise potential conflicts of interest, the reporting channel will be implemented by a service outside of Lakea.
How will my privacy be protected?
You can file a report under your own name or anonymously, in which case you will only receive a case number through which you can monitor the processing of the matter. If you believe the situation requires an anonymous report, the report will be processed through strict compliance with the Personal Data Act of Finland (523/1999) and through a system provided by an external service provider. In other words, you do not need to worry about your privacy.
What kinds of things should I report?
The violations suspected may be severe violations of the law or other severe violations of our ethical guidelines which may reflect negatively on our organisation, customers or partners. These include accepting gifts or hospitality that is against the instructions, misuse of insider knowledge, conveying customer data to an outsider without justified reason, or matters of disqualification in decision-making.
Which matters will be handled elsewhere?
As a rule, if our customers encounter problems, they should contact their own contact person with us. The reporting channel is not intended for complaints. Similarly, employees' issues should primarily be resolved by their supervisor or HR manager. The reporting channel is intended as the last resort for reporting serious observations or suspicions.
How will my report be processed?
The service provider will deliver the reports received to specifically appointed handlers at Lakea. They will decide if the ethical guidelines have been violated.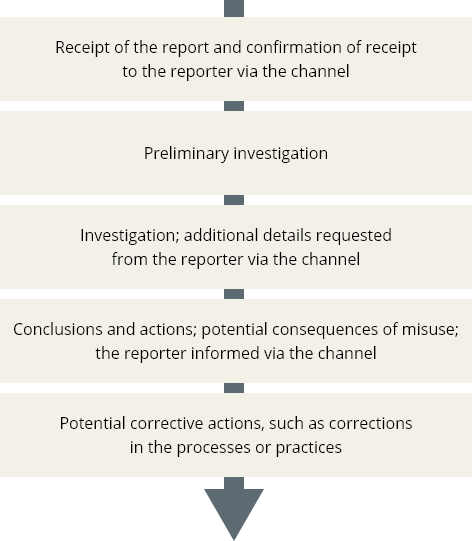 How to report
You can file a report based on a suspicion without actual proof, as long as your intentions are sincere. Via the link below, you can access the form to file the report easily and securely. Please follow the instructions on the form.
Link to our reporting channel, First Whistle:
Save the code
When you file a report, you will receive a case-specific code that will be used for further communications with you. If you have lost the code, we ask that you file a new report in which you refer to your earlier report. This way, we can continue our cooperation to resolve the matter, and you will be updated on the investigation.
Enquiries:
info@lakea.fi
Centralized external reporting channel of the Office of the Chancellor of the Justice
The Office of the Chancellor of Justice acts as a centralized external reporting channel for whistleblower protection. It is possible to report misconduct to the Chancellor of Justice's centralized external reporting channel.
Please note that the notification of misconduct observed in the organization's operations is primarily made to the organization's own, internal notification channel.
How to make a notification to the notification channel of the Office of the Chancellor of Justice?
Notification form of the Council of the Chancellor of Justice